Stick N Twist Light Bulb Remover/Changer Excellence in New Hardware Tool @stickntwist @NRHA_Official @hardwareretail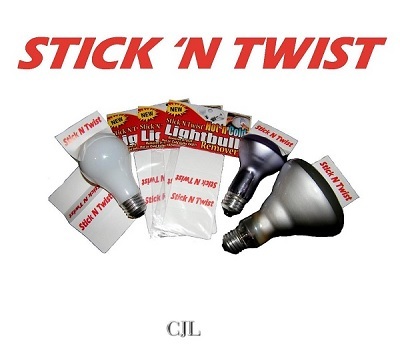 Stick N Twist Light Bulb Remover/changer is applied to any type of bulb to twist off a hard to remove burnt out or corroded bulb that won't come out of the light fixture and used to change a bulb when you don't want hand contact.
I finally had the opportunity to use Stick N Twist on a bulb that I couldn't twist off and remembering the stories of my husband's friend telling us when he tried to take out a stubborn bulb he broke his expensive fixture and my Aunt telling me how she crushed and broke a bulb while her fingers were gripping the bulb to twist off made me nervous that it could happen to me so I immediately ran to get a Stick N Twist that I was given at a hardware event; took it out of the package, unfolded it and stuck it in on the bulb then twisted and ABRACADABRA like magic the bulb turned easy and off.
I then took the bulb still stuck on Stick N Twist and threw it in the garbage; all this and no hand/bulb contact, cuts to my hands or damage to my polished nails. I knew I had the option to re-use the stick n twist but felt I had a pack of them and so affordable that I decided to throw it out.
From the wonderful results I received I had to research this product and came across CJL Products and read how Stick N Twist works because of the form fitting disk specifically make for this product that circumferences the bulb 
with
 adhesive bonding, special strength/stretching action material designed to adhere to and protect the smooth glass surface of a bulb for fast, safe and easy light bulb removal with NO residue GENIUS!!
Stick N Twist is made in the USA, disposable, affordable and comes in 3 and 10 packs. From now on I will make sure I have a pack or 2 in my drawer for the next time I have a stubborn bulb for easy removal and to protect my hands and fixtures. Also works on stove lights and recessed lighting. 
For more Info and ordering go to: 
https://fashionsdigest.com/stick-n-twist-light-bulb-removerchanger-excellence-new-hardware-tool-nrha_official-hardwareretail/