Sail the BVI's Barefoot on the Windjammer S/V Mandalay @SailWindjammer1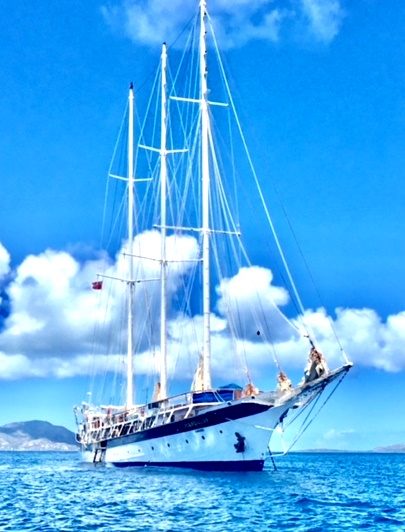 Sail Windjammer -The S/V Mandalay was custom built as a gift for E.F. Hutton's wife Marjorie Post in 1923 later used by the coast guard then as a passenger charter.
Cindy Greenway, a partner at Sail Windjammer and previous passenger along with Captain Sylvester Dzomeku known as sly with a prior history of sailing this same ship became owner/partners and began restoration out of love for the S/V Mandalay and to preserve one of the last tall ships left in the world to experience.
The process was long and rigorous since the ship was also re-fitted to sail the Galapagos Island as a cruising yacht.
The S/V Mandalay can accommodate 58 passengers comfortably with a crew of 24. Want to have high seas adventure feeling the freedom and power as in the film "Pirates of the Caribbean"? The S/V Mandalay will do just that.
The S/V Mandalay is a beautifully polished 236 feet tall ship built from white spruce, larch, pine and teak with three enormous masts that hoist bright white sails allowing for a smooth, warm and breezy sailing.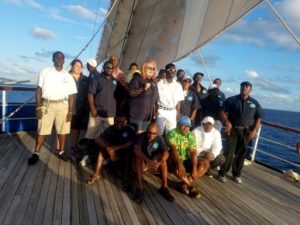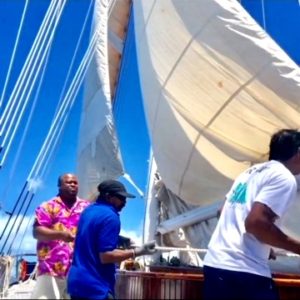 The S/V Mandalay is based in Grenada and has 6 or 13 night sailing cruises year round. The Grenada/Caribbean cruising is unique since the ship can visit more islands that bigger vessels can't get to and there is NO set Island itinerary.
Our first port of call began in Tortola. We flew our favorite airline JetBlue for the on-time service. roomier leg space, free wifi, friendly staff and direct tv with newest movies from JFK to San Juan connecting to St Thomas then hopped on a high speed ferry.
We were greeted at the dock and taken by tender boat to the S/V Mandalay with a caribbean welcome, appetizers and rum swizzles. It was wonderful to finally stand on the beautiful deck staring out into the magnificent blue ocean on the start of a relaxed, nautical inspired barefoot adventure. 
We started each day with breakfast later cheering with specialty drinks in hand while watching the crew raise the sails to the song "Amazing Grace" then climbed up to the top deck to meet with Captain Sly for storytelling and to find out the island we are visiting for the day.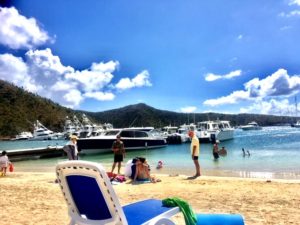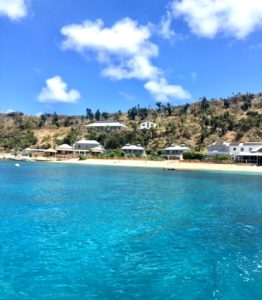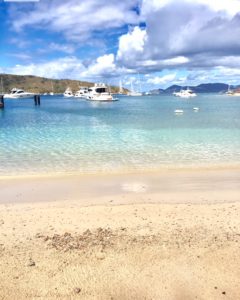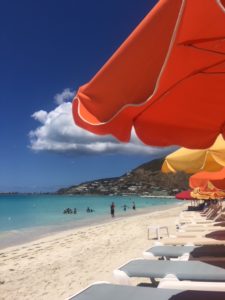 The Islands visited in the British Virgin Islands – Virgin Gorda, Cooper Island, Norman Island, Jost Van Dyke, Anguilla and St. Maarten with white beaches, coves, bars and shops. There are also cafes & restaurants although we decided to take the ship's 5 minute tender service to and from the Islands for lunch on the ship.
Daily beach activities include snorkeling, kayaking, scuba and selected tours. Since there was an unfortunate hurricane and the locals are still in the process of recovery the beaches are secluded; perfect for reading, relaxing and wading in the clear,warm waters.
It was nice after a long day at the beach to go home to the ship; enjoy snacks, cocktails and rest before dinner in my Admiral Suite cabin complete with central AC, king size bed, closets and ample space. Cabin categories are available. 
The evenings consisted of dinner, scheduled festivities, nautical classes and relaxing at the bar or on deck.
The chef prepares the evening dinner that starts quite charming with a dinner bell calling us to be seated at 2 large dining tables where wine was served and the 3 course meal began. Most of the food is local and  fresh with the breakfast, lunch, snacks and dinner menu changed every day.
I especially liked that the ship is fitted with a ladder and platform to practice my dives and scuba. I also enjoyed relaxing on the top deck where I lounged on it's smooth warmness during the day listening to Christopher Cross "Sailing" from state of the art speakers and star gazed at night.
For a unique barefoot experience on a tall ship on the high seas where you enjoy many islands that few can't get to with a crew big enough to take care of your needs and so much more makes this voyage feel as if  being hosted on a friends yacht with a private butler leading to a wonderful vacation/getaway experience.
Visit Windjammer for more information on this cruise and the Grenadines itinerary click here sailwindjammer.com
The best way of getting there is JetBlue the largest airline in the Caribbean with non-stop flights serving multiple airports on a given island from NY. I'm happy it's Jetblue that has the largest span of flights from NY since equipped with roomier legroom, free extras including wifi, movies, headphones and the most significant value: On-Time flights and great service. To book your next flight visit: JetBlue.com