Fairmont Scottsdale Princess Hotel AZ Family/Adult Vacation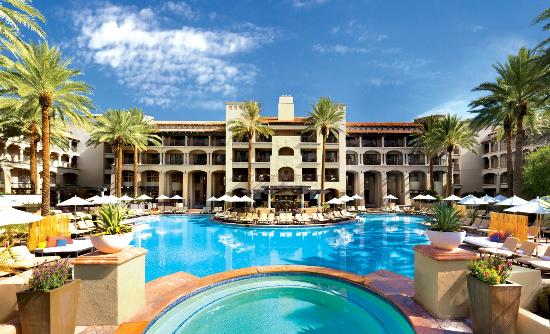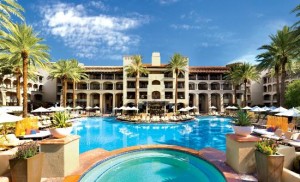 The 5 star Fairmont Scottsdale Hotel is a kid family resort designed to meet families & adult travel needs with an excellent guest rating.  We went during spring break; the weather was gorgeous with the temperature in the 80's during the day; 60's at night and the air clean and fresh with practically no chance of rain. Our  spacious double bed  accommodations with a terrace overlooking the ground's fountain felt a lot like a master suite.  There are vast well manicured flowered grounds with Fountains, 6 pools, fire pits, relaxing chair lawns, sport/play areas, 5 tennis courts, 2 championship golf courses, water park, kids fishing lagoon, day spa, adult spa and 3 restaurants, a cafe, bar & grill and a clubhouse that winds around and thru the 209 suites on a 65 acre oasis overlooking the Sonoran Desert.
Let's start with how kids are entertained at this resort beginning with Trailblazers Kids Club a program for children ages 5 to 12 with a morning session, afternoon session and full day session. The morning program consists of board/card games, arts & crafts, interactive activities, air hockey, ping pong, fishing and movies. The afternoon program consists of swimming and recreational games ending the day with an ice cream social and each day of the week features a theme activity from exploring the property and it's wildlife to making S'mores in a solar oven.  If you want to spend time together as a family there is a sport court, Playground, Lagoon fishing, ping pong court and two 200 feet water slides that are open late on weekends with fog, disco light and  music. 
If you want a getaway or romantic trip there are  plenty of things to do starting with dining options. For choices of eateries on the property there is La Hacienda a modern Mexican cuisine featuring fresh, indigenous ingredients, lighter dishes and unexpected pairings of traditional foods prepared by Chef Richard Sandoval and voted the #1 restaurant in Arizona with a Tequila bar of 200+ varieties  from 36 different labels enclosed in a  Spanish flagstone plaza with  beehive architecture, fireplaces and high wood-beamed ceilings  with inside/outside dining choices. Bourbon Steak – upscale, contemporary American steakhouse with finest cuts of  Certified All-Natural Angus Beef, poultry and fish low-poached, buttered and grilled over seasoned wood-fueled flames prepared by Chef Michael Mina and paired with a large wine list and specialty cocktails.  Toro Latin Restaurant & Rum Bar Clubhouse –  features a menu infused with flavors of South and Central America prepared by Chef Richard Sandoval in a casual atmosphere.  Ironwood American Kitchen – features a menu with a variety of wood fire cooked specialties that include pizzas, oven roasted nachos a children s menu, sandwiches and salads and you can choose to interact one on one with the Chef and his team outside and dine on a patio seating with fire pits surrounded by glass walls. Sonoran Splash & Eat Pools – where you can reserve a cabana with a refrigerator stocked with water bottles, fresh fruit and a dedicated food/drink server. South Pool cafe – serves grilled burgers, salads, sandwiches, snacks and drinks.  All of these dining options are also available for in-room dining.  
Want some retail therapy? you can with 5 stores on the grounds from the latest trends in  men and women apparel including Nicole Miller and Henry & Belle to pool toys, provisions, beauty products and gifts.
When you want to relax, de-stress and get pampered there is a pristine and soothing spa that has all the amenities and a wide variety of service menus to do just that with certified Massage Therapists and beauty clinicians.  After your services relax in the spa's roof top pool;  tranquil and away from everything.
For the person who wants to unwind while working on their swing there is a world renowed  18 hole TPC Scottsdale's Stadium Course for avid players  and TPC Scottsdale Champions Course with plenty of golfing choices from the beginner to the seasoned golfer.
The Fairment Scottsdale Princess hotel also offers wedding packages, spring training specials and much more. With so much to offer why go to another country/island to enjoy a 5 star resort when you can fly to Arizona for just that; did I mention with hardly a chance of rain?  My family and friends enjoyed themselves with all the amenities the Fairmont  Scottsdale Princess has to offer. We returned from our vacation refreshed and ready to take on the big City.  Check out their packages and for more information go to: www.Scottsdaleprinces.com
Pictures courtesy – Fairmont Scottsdale Princess and Fashionsdigest.com
https://fashionsdigest.com/travel-review-2015/fairmont-scottsdale-princess-hotel-az-familyadult-vacation/