Hilton all inclusive Jamaica Beach Resorts Jewel Paradise Cove/ Jewel Dunn's River/ Hilton Rose Hall Curio Collection #ParadiseCove #jeweldunnsriver #HiltonRoseHall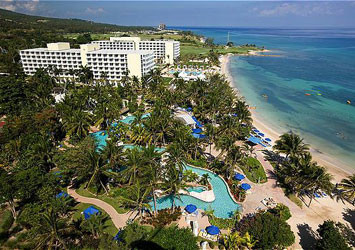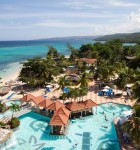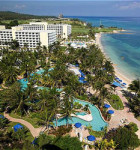 Hilton already owns the Hilton Rose Hall Resort & Spa In Montego bay and just recently Hilton Worldwide expanded with three iconic Jamaican properties: Jewel Paradise Cove Beach Resort & Spa, Jewel Dunn's River Beach Resort & Spa & jewel runaway bay beach & golf resort; all hand-picked for travelers who seek beach resorts with authentic experiences. In the recent past Hilton had different plans/payments ex. food plan or drink plan ect. when Hilton acquired these properties they introduced Hilton all inclusive one price plans at their Resorts.  This is obviously a positive change for every vacationer knows it's much easier to have almost everything included under 1 payment plan with the bonus of getting it in distinctive upscale, luxury all inclusive hotels that include gourmet dining and Premium Spirits.  Below I will be listing what the Hotels offer in their plan, optional services and my experience; keep in mind all Resorts provide a relaxing to active experience.
My first Stay under Hilton Worldwide of the three Resorts I will be covering is the Adult resort – Jewel Paradise Cove Ochos Rios where I arrived from Montego Bay airport with free shuttles to all hotels every 15 minutes.  Our ride was two hours but surprisingly enjoyable with a native friendly, funny and knowledgeable shuttle driver who discussed Jamaica's highlights and  history while pointing out landscapes and breaking up the time by stopping at a roadside Jerky Shack for snacks and drinks.  Stepping off the shuttle into the Jewel Paradise Cove was easy breezy where staff took care of our check in needs while we relaxed with drinks in an open air lobby.
Jewel paradise cove Resort & Spa is an adult hotel with  250 rooms and suites thru-out three-story buildings on a coveted  cove with 2 secluded beaches. The property has a 180 foot double looped water slide, 3 pools, swim up bars/land bars that include non alcohol/ alcohol beverages, 7 restaurants from outdoor buffet to an la carte air-conditioned first class service, fitness center, tennis court, non motorized water sports and optional fee activities for SCUBA, water skiing, sunset cruise, glass bottom boat ride, golf at Runaway Bay Golf Club and Honeymoon packages.  curiocollection3.hilton.com
My two night stay at the Jewel Paradise Cove Resort & Spa was a place to relax de-stress and charge my batteries in a lush tropical setting where everything is walk-able. I thoroughly enjoyed getting into a zen like relaxing state at the resorts slow pace by receiving a massage with the terrace doors open; feeling the breeze on my skin, sipping on a delicious frozen specialty drink called "The Bob Marley" on the beach and in the warm, calm Cove water, having lunch on a breezy terrace overlooking the Bay ordering authentic Jerky chicken, grilled food or fresh fruit and salad.  There are plenty of activities to keep oneself on the go but since I'm from the big city where there is already too much to do I chose to languish touring the crystal green cove on a glass bottom boat where the group spotted a dolphin in the distance playing with us.  There is a show every night that I would go to after a lazy late outside dinner or an early classy a la carte setting where I enjoyed the Moonstone Italian Restaurant; especially their deserts.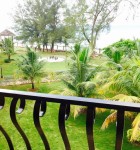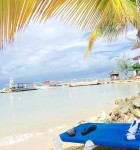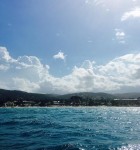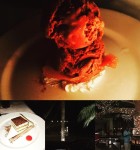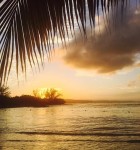 The Jewel Dunn's River Beach Resort & Spa in Ocho Rios is a private beach front adult hotel  that has around the same amount of rooms and service as the jewel paradise with pools/ swim up /land bars, 6 restaurants except with more land amenities/activities- Beauty parlor, Gift Shop Horseback riding, Dunn's River Falls, 9 hole golf course, Wedding /Honeymoon packages and water sport options.  curiocollection3.hilton.com
My one night stay at The Jewel Dunn's River Beach Resort & Spa felt like a medium paced beachy atmosphere where I found myself a little more active. Even though Dunn's River is the place most tourists in Jamaica want to be I was content doing activities at the resort. My room's terrace was spacious/airy with may views; enjoyed with my morning coffee before going to the breakfast buffet that presented an assortment of tropical local fresh foods to choose from. After lunch I sauntered to the beach where the water was warm and wavy enough to slowly exercise in, rested on a beach bed and watched the Caribbean. Lunch was at the grill where I had Jerk chicken and watched aqua games at the pool run by an entertaining game instructor.  After lunch I went to the Snorkel center and swam for an hour looking at the reefs in crystal clear water. Back on land I relaxed slipping into a nice sized Jacuzzi with my favorite Frozen drink.  That evening I had a light dinner at The quiet Jade Samurai where the food was beautifully presented, watched the nationally known Steele group Show then went upstairs to join the wedding party crowd around the piano for a sing a long before retiring to my terrace for some quiet drinks before bed.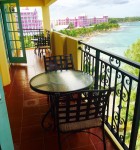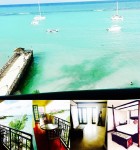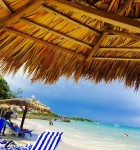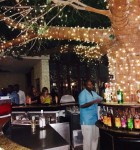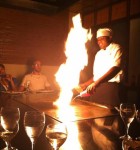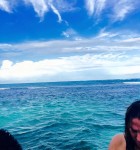 The Hilton Rose Hall Resort & Spa In Montego Bay is an all inclusive kids/adult private beachfront spread with 450 rooms & suites on 400 acres with pools including adult, swim up /land bars and water activities, golf, Honeymoon Packages. the Property has shuttle service to different parts of the Resort every 5 minutes and shuttles to offsite activities such as the 18-century sugar plantation with historical ruins. Since this is a larger property than the Jewel Resorts and caters to kids there are more activities – kids klub, Teen Zone, Lazy River/water slide and transportation to offsite activities such as the 18-century sugar plantation with historical ruins and more.  www.rosehallresort.com
My two night stay at The Hilton Rose Hall Resort & Spa was invigorating and felt like a medium paced hotel.  I had an amazing Suite with outside balconies in 3 rooms and spacious accommodations;  My suite felt like a Condo in the sky where I could view the various grounds and activities including the lazy river/water slide.  I went to the beach, pools, did wind surfing, water slide & lazy river tubing with a drink in hand and had lunch/snacks at various grills. At night I went for a tasting at a few restaurants such as Luna Di Mare for northern Italian food (the lemon fish sauce was amazing).  After dinner attended shows, karaoke and danced to Caribbean music in the disco. The night would end at my suite in the sky for a night cap on every balcony.  This hotel is marvelous on how they have kids but you hardly notice them making the stay as accommodating as an Adult's only hotel as well.