Top NY Restaurant Picks For The Holiday Season 2019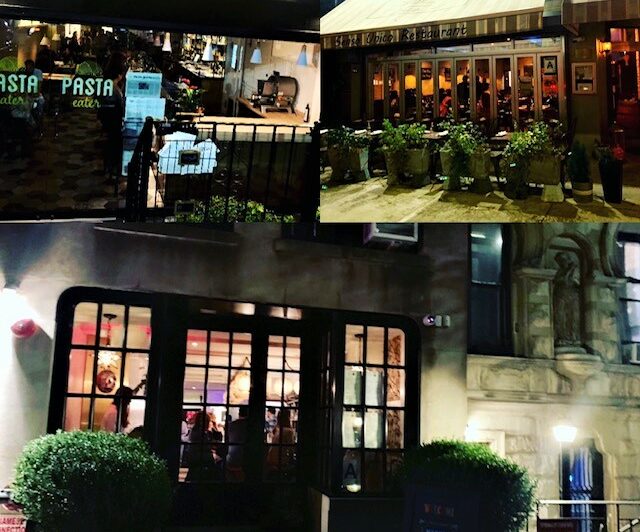 Chola Coastal Indian Cuisine is located in Midtown East NYC Sutton Place neighborhood. Chola has recently revamped the dining interior and introduced a new menu inspired from India regions covering 8,000 miles of coastland consisting of seaside delicacies prepared in a modern fusion/fine dining experience.
Chola has been established and in the same location since 1998 by a husband and wife team that have a lot of experience in getting it right with a creative menu, seasonings imported from India and Asia, fresh-baked bread, samosas, dessert & fresh exotic seafood. Come in for exciting Indian food and presentation that is not the ordinary in a relaxed yet traditional environment.
Our faves were the Lata Shetty's Kori Gassi- Mangalorean coconut chicken curry, red masala for a complexed spicy, creamy taste. Jhinga Koliwada-shrimp fried with a light coating nicely seasoned and juicy. Meen Moilee Branzino- fresh fish with coconut, turmeric, curry leaves for a creamy fresh taste. Lobster Ghee- Roasted & Spicy red & pounded masala for an intense flavor. Freshly made desserts and a full wine & cocktail menu with a good selection of Indian beer are available. Chola Coastal Indian Cuisine is open for lunch– à la carte & unlimited buffet, dinner & takeout. Visit cholany.com (212) 688-4619 232 E 58th St New York, NY 10022
Mizu Restaurant is located on east 20th street in the classy, hip NYC Gramercy/Flatiron neighborhood. Mizu is housed in a large space with Asian inspired decor, lighting ambiance and a sushi bar placed in the back/middle where diners can see the tradition of choosing, slicing and preparing fresh fish dishes by sushi chefs.
The high-quality sushi-grade fish is sourced from trusted local purveyors brought in 1 to 2 times daily. Popular Sushi bar appetizers are the White Tuna Truffle- delicately seared with a smattering of truffle oil & yuzu soy. Black Cod Fish- with chef's special miso sauce. Crazy Toro Roll- spicy tuna, avocado, Cajun seared toro, eel sauce, jalapeño & sriracha.
A must to order is the Omakase Sushi experience that offers expensive fish and cuts with the Chef's choice of eight pieces of specialty fish and a negitoro roll- spicy. Selections can include King Salmon, Red Snapper, Scallop, Sea Urchin and the melt in your mouth exotic fatty bluefin tuna (Chūtoro) priced affordably. Our other faves were the Flatiron roll- crunchy salmon, avocado & ikura. Honey wasabi tuna steak & Sashimi entree- 17 pieces of chef's special assortment.
Mizu offers a large menu including soaps salads, appetizers, hot dishes-Tempura, Wasabi, Katsu, Terriyaki, ramen and more. Deserts are Japanese ice cream creations and Banana Spring roll. Drink menu includes Wine, Sake, cocktails and premium liquor.
Come to Mizu Restaurant for the traditional (Washoku) art of sushi & sashimi that's beautifully presented with hand-selected fresh fish expertly sliced from the choicest cuts into large flavorful proportions and creative menu options that will have you leaving full and happy. Mizu Restaurant is open weekly for lunch, dinner and takeout. visit here spoondelivery.com1 (212) 505-6687 29 East 20th Street, New York, NY 10003
TGA NYC Restaurant located in midtown West conveniently next to boutique hotels is a next level architectural lounge eatery with deliciously dangerous and warm in my tummy Holiday Cocktails like the Snow Bunny made with Tequila and White Christmas made with dark rum, all with premium brand liquor available & special for the Holidays & winter season.
Chef Caldron who is a certified executive chef has recently joined TGA NYC along with a new menu serving up top-notched food & huge portions at lounge prices. TGA NYC will be celebrating Christmas Eve and Christmas Day with a special $35 prix fixe menu So treat yourself & loved ones to a fun time and great eating experience at TGA NYC for the Holidays.
Our faves were the SALMON CRUDO– nicely sliced and fresh paired with flatbread, ginger sesame, onions & Aioli, TARTER- made with mostly tuna for a properly proportioned fresh taste, BEEF TENDERLOIN– smoked salt rub, tomato chimichurr, grilled asparagus & garlic potatoes, Grilled Salmon- Lemon Caper Butter Sauce, Potato Au Gratin & Vegs along with delightful desserts. TGA NYC is open for breakfast, brunch, lunch, dinner and seasonal outdoor dining. Visit here tganyc.com 212-651-4842 320 W 36th St, New York, NY 10001
Lela Mediterranean brasserie is a new NYC restaurant located in a charming brownstone nestled on a chic upper west side 74th street block with an interior styled Istanbul decor. Executive Chef Met Kaba serves popular Turkish and Mediterranean cuisine with ingredients imported from the Mediterranean coast or Maramara region in Istanbul. The restaurant's interior decor is Turkish inspired for a relaxed, authentic experience.
We especially liked the Merguez Pide very tasty with minced meat, onions, parsley and tomato on nicely baked flatbread, Enzine salad- fresh and plentiful Greek salad with ezine cheese and the slowly cooked & tender Lamb Shank with porcini and orzo risotto. Lela Mediterranean brasserie is open for brunch, dinner and takeout visit leylanyc.com (347) 334 7939 108 W 74th Street New York, NY 10023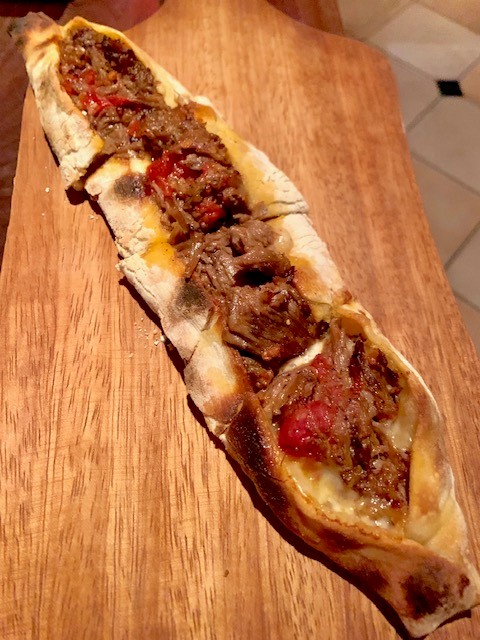 Senso Unico Restaurant located on a quiet Sunnyside street in Queens where you feel far from the city but only a 15-minute train ride away from midtown. This Trattoria is family-owned and operated by Chef/Owner Vincenzo Garofalo who runs the kitchen and has an extensive Michelin starred restaurant background along with his wife Laura Garofalo who takes care of the hospitality making sure to visit each table to greet patrons and suggest wine & specialties.
Our faves were the tasty Gnocchi Di Castagne- ricotta chestnuts & dumplings, Prociutto- fresh and nicely sliced and the perfectly seasoned & tender Calamara.
if you want to experience an inviting Trattoria eatery come into Senso Unico for the warm atmosphere, fine dining and affordable prices. Senso Unico Restaurant is available for outdoor seasonal seating, Lunch, dinner, takeout & catering. Visit sensounicorestaurant.com (347) 662-6101 4304 47th Ave, Sunnyside, NY 11104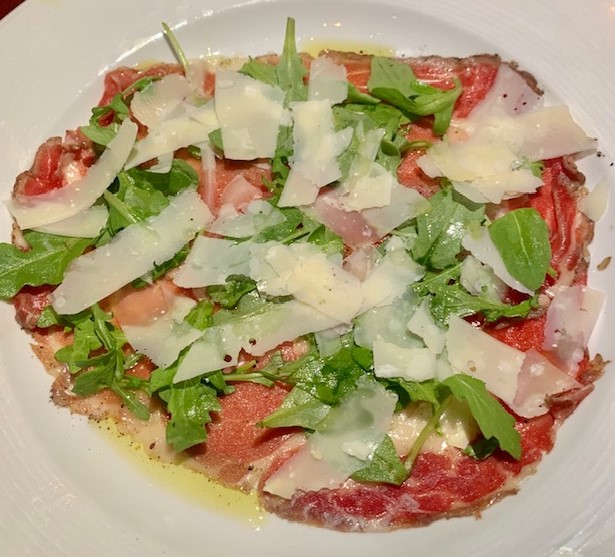 PASTA EATER is a newly opened NYC Italian restaurant owned by restaurateur Giusto Priola and Chef Luigi Cetrulo; located in the fun and hip Union Square area. Historic Pasta traditions from Sicily and regions of Italy are made from scratch for the freshest homemade pasta in many choices. we also loved the grilled fish and shellfish perfect with olive oil dripped on after grilling. Chef Luigi understands that if fish is fresh and pasta is homemade there is no need to add a lot of ingredients and the result is simply delicious.
Our faves were the grilled prawns- crispy and sweet like popcorn and the Branzino was unbelievably fresh. My favorite pasta dishes were the fresh and full-bodied Gigli pasta with basil pesto and the succulent Troccoli pasta with lobster. Prices are affordable especially when you can BYOB. PASTA EATER is open for Lunch, dinner and dessert visit pastaeater.com (212) 637-5910 9 East 17 Street New York, NY 10003