Hover -1 Alpha Electric Scooter Best Bang For The Money Product Review 2020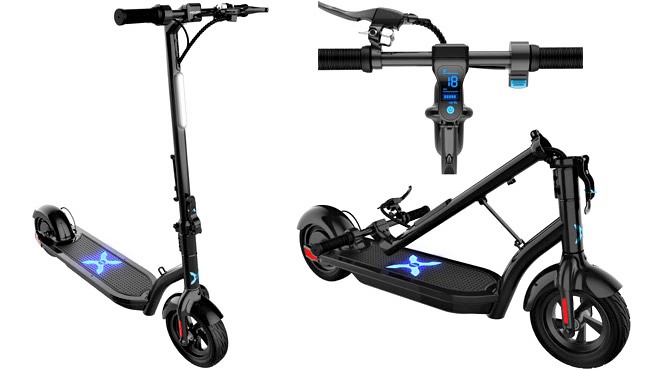 Hover 1 a New Jersey-based company launched in 2015 quickly took over the electric rideable market growing to $100 Million in sales by 2017 and number one in the hoverboard US market. Hover 1 recently partnered with DGL Group, a US consumer electronics production company with a customer base spanning multiple retail tiers with distribution channels in over 250,000 individual store locations nationwide.
Pritesh Dave, Managing Director EMEA at Hover-1 Europe said: "Having launched just a few short years ago, Hover-1 has seen nothing short of a meteoric rise to the top of the hoverboard market. This has been born from our rigorous design and research processes that assure that each product serves its customer perfectly with very little crossover. This, coupled with the consumer confidence that we enjoy from delivering exceptional products made from the highest quality materials".
The Hover-1 Alpha electric scooter has a powerful 450 Watt motor, sleek foldable frame, extra-wide skateboard style deck that makes turning a dream, easy air hand brakes, sturdy glide out kickstand, Bluetooth speaker, bright LED headlights for night riding, cool blue light logo, and LCD light moving platform display for a sporty look. The 10 " air-filled tires easily handle speed bumps, potholes & concrete/asphalt debris softening the road terrain for a smooth enjoyable ride.
Hover 1 is serious in their electric rideable product's safety by ensuring that UL Certified safety features meet the highest standard with rear flashing red brake lights, sport mode for high speeds at fast acceleration to get out of tight situations and a lower speed control mode setting for new riders. Don't want to keep checking your speed? there is also a cruise control feature when you are at your desired speed. I rarely used the cruise control during testing and primarily kept it in on the Sport setting enjoying the handling of this scooter at higher speeds.
The Alpha 1 electric scooter sells in the mid-price range leaving it's similar price point competitors in the dust. I would recommend it to anyone looking to buy into the electric scooter market looking for a high-end performance scooter at a great price point that has all the bells and whistles of an expensive scooter. $399 Product & info here www.hover-1.com
Specifications:
Max Rider Weight: 38 lbs Motor Power: 450 watts Max Speed: 18 mph Max Distance: 12 miles Wheel Size: 10 inches Unit Weight: 36 lbs LED Headlight LED Display