Buenaventura Grand Hotel & Great Moments Puerto Vallarta, Mexico @buenaventurahtl #PuertoVallarta #PVPressTrip @Aeromexico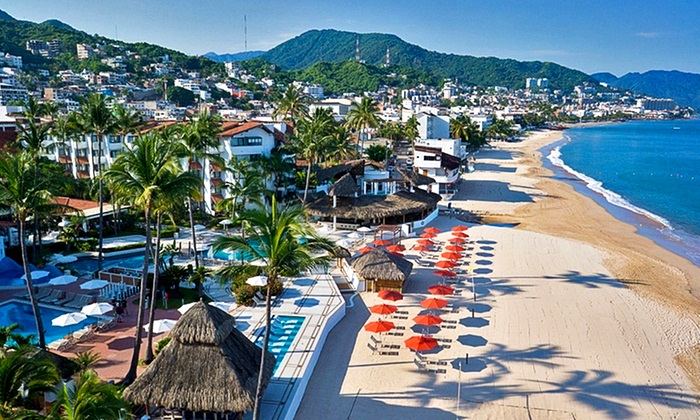 The Buenaventura Grand Hotel & Great Moments is an all inclusive Hotel in Puerto Vallarta Mexico and a wonderful family resort with the easy traveling of 3.5 hours flight time from NY and just 15 minutes away from the airport. Arriving at the Hotel I walked into the entrance right in town walking thru the wide lobby to spill out the back of the hotel into sunshine, pool and  beach heaven for the best of both worlds. The Resort is large enough without being too big and I loved that everything was in close proximity to walk to. The rooms are almost all fully renovated with state of the art TV's, 24 hour room service and equipped with a mini bars refilled daily. There are 2 pools, 1 adult lounge pool and 1 baby pool with the smallest of the 2 pools holding plenty of pool activities- volley ball, exercise classes, aquatic classes and fun pool programs. Choose 4 dining style restaurants from buffet with a large array of fresh, local cuisine to fine dining in beautiful settings for lunch and dinner.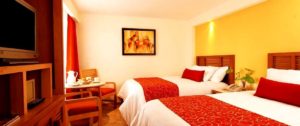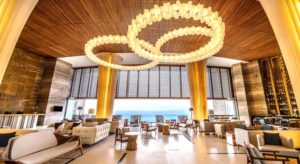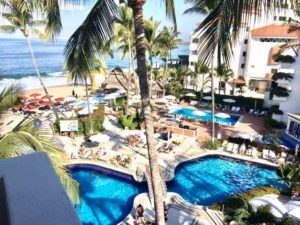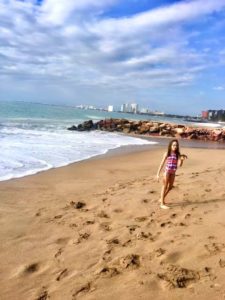 My daughter Brianna a 10 year old played not only in the kids club area but all around the resort accompanied by the kids club staff.  I especially liked that the staff brought the kids to the beach; a nice bonus for some downtime relaxing with a rum & coke and a good book since I didn't have to watch her near the waves every 2 minutes. Brianna easily made friends but when they had to leave for dinner or to return home the staff became her friends as ping pong partners, playing tag in the pool; pretty much any kid activity the hotel had to offer. If you want to walk around the hotel there are beautiful paths and The Lobby Bar, Cabana Bar and Beach Club Bar where you can sip and swing to the splendor of the Pacific Coast. Want to quickly unwind by melting into a message or get beautified? Visit the Shakti Spa and get a few services since the peso exchange rate won't melt your wallet. The resort holds nightly entertainment so I sauntered to the theater with flower fragrances in the night air and red wine in hand to see the Mexico Show; a lovely way to end the evening after dinner.
The Villa Premiere Boutique Hotel the parent Co's adults only, all suites, premiere all inclusive resort is right next door and perfect for zen like relaxing, romance and weddings.  The 2 resorts sit in the center of town where you can walk within 5 minutes to the The Malecon Boardwalk with lively restaurants, shops and music flowing from grand set clubs and street musicians. There is also a big art scene noticed on the promenade with sculptures to sit on, individual artist paintings for sale and portrait painting available. Walking back to the hotel we caught the colorful Papantla Bird-men swinging from a pole performance on the beach and a fireworks display while eating tasty snacks from street vendors.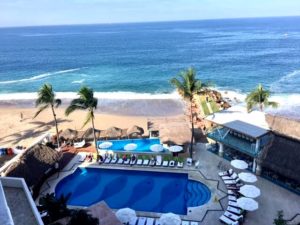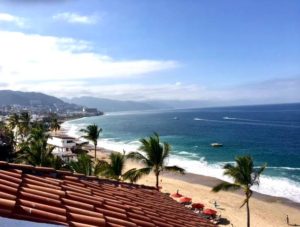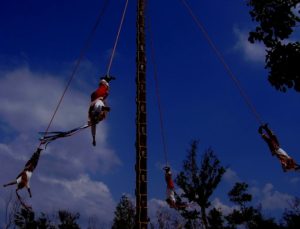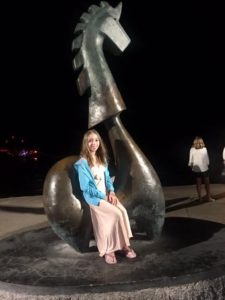 There are numerous tours and things to do in Puerto Vallarta; Check out the family fun we enjoyed booked from the Hotel's concierge:
Dolphin Discovery – Open daily from 10-5  is an Aquatic Park jam packed with water packages is a great family experience. We chose a swim with the dolphin's package and water park where we had an adorable dolphin named Eddie to pet and swim with for 45 minutes; he even made motorcycle noises and followed a few of our commands that the trainer taught us. We took to the lazy river to soak up the fun then my daughter did the water slides for an hour. The park is easy to do all 10 slides since there's hardly any waiting lines. My associate and I did the zip line a first for me.  After my fun I took Brianna to the climbing gym difficult enough for adults to do yet safe for ages 7 and up with included rope snares then tried the rock wall where she was given a chance to climb a couple of times at one shot. Lunch was definitely not park food with a large menu of home cooked/ healthy choices to please adults and kids.  There is a selection of non-alcohol and alcohol beverages and a variety of packages that include food & drinks.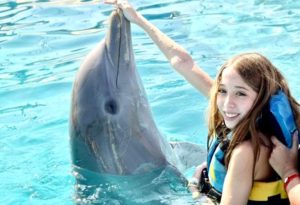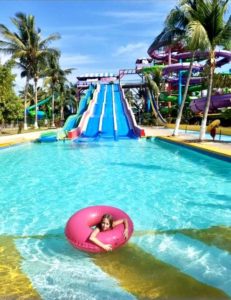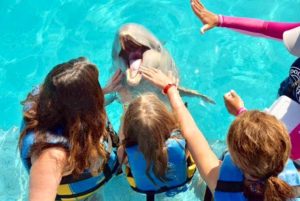 Vallarta Adventures excursion to YELAPA & MAJAHUITAS – A fun filled packed 1 day excursion that comes with a boat ride to and from YELAPA & MAJAHUITAS islands including breakfast, lunch, snacks, alcohol & non-alcohol beverages.  We took pictures of the Islands, snorkeled and chose the beach stay that includes umbrella/lounges with food/drinks optional. My daughter was in animal glee playing with a crab and cuddling a huge iguana. The second option was climbing the Yelapa Waterfall for the adventurous. On the boat ride back we enjoyed a show on the deck in the sunset with an added bonus: whale watching when a curious whale came close to the boat; not part of the excursion but does happen.
Aeromexico – Offers daily service to Puerto Vallarta from several cities via Mexico City. Recently Aeromexico introduced daily service from JFK to Mexico city aboard the brand new state of the art 787 Dreamliner.  I felt like I was in business class on another craft because the 787 Dreamliner comes with additional leg room, larger windows and modern monitors where I can choose from a vast selection of entertainment options including new movies. Since in flight service includes food and beverages added to higher oxygen intake, soft Led lights, more space to stretch out, noise reduction technology and a smoother flight it was hard to stay awake to see the end of my movie. The aircraft is not only luxury smart but environmentally smart using 20% less fuel consumption leading to a smaller footprint. For ultimate luxury and comfort aboard the Dreamliner 787-800 book a first class ticket on Clase Premier, offering wide reclining fold down flat seats, enhanced meals, premier beverage service, priority boarding and the use of VIP lounges and partner Sky team lounges globally.