Best NY Restaurants To Visit This Winter Season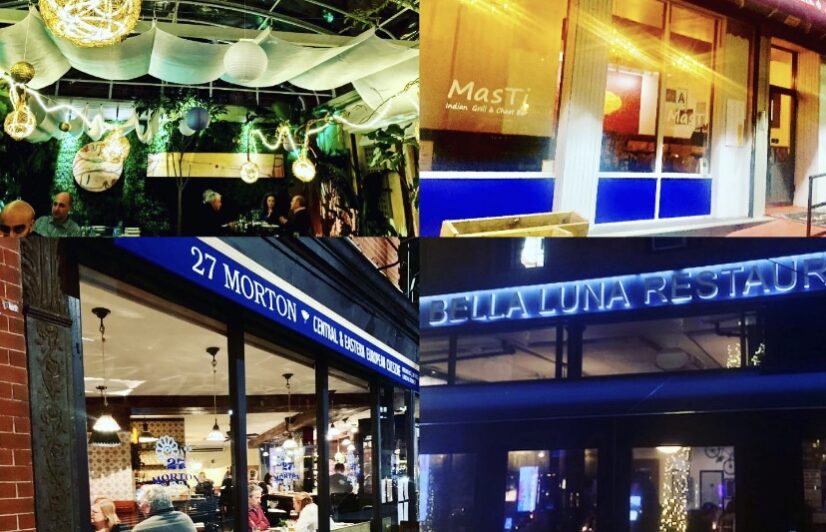 Bella Luna NYC Italian Cuisine has been a long time fixture since 1988 located on the residential upper Westside in a relaxed dining atmosphere that serves family gatherings to cozy wine and intimate dinners.
The dining room is large with high ceilings and expansive windows and the menu is from the northern part of Italy prepared in home-style traditional faire with generous proportions.
Our faves were the fresh and plentiful Mussels- in spicy tomato sauce, Linguini Bella Luna- packed with shrimp clams mussels & calamari in creamy tomato sauce, Fillet of Branzini- capers & spinach in a lemon butter sauce. For dessert we had the fresh creamy chocolate/vanilla Tartufo with fruit sauce.
Bella Luna has a full wine, cocktail & beer menu and open for brunch/ lunch/ dinner/takeout and offers a party menu for groups of 10 or more with Seasonal outdoor seating available. Visit bellalunanyc.com 212.877.2267 574 Columbus Ave. New York, NY 10024
Newly opened Masti Indian Grill and Chatt bar in Williamsburg NY only 3 minutes from the subway with a menu created from all over India. if you think you've tasted all of this culture's cuisine you haven't eaten here including traditional street food. The seasonings are freshly ground the meats are tender and tandoor orders are authentically cooked in a tandoor clay oven; all this at affordable prices. Try the chaat bar for appetizers and drinks as a wonderful option.
Our faves were the Chapli- kebab minced lamb patties with green chilies & house spices, Shrimp Biryani and Chicken Tikka- Grilled tender boneless chicken chunks marinated in yogurt & mild spices. For dessert we had the surprisingly delightful Gulab jamun.
Masti Indian Grill and Chatt bar has a No cork fee policy when you bring your own bottle (BYOB) and open for lunch/ dinner/ takeout. Visit mastinyc.com (718) 599-1516 184 Havemeyer St. Brooklyn, NY 11211

27 Morton restaurant recently opened its doors in NYC's charming West Village serving generous portions of Central & Eastern European homemade style cuisine prepared by old-world Chef Nika who arrived here from Georgia. Most of the seasonings are imported from Georgia and Eastern Europe. 27 Morton has a full cocktail/wine menu and you will find the best fine German beers here where they also offer beer pairings.
Our faves were the House Assorted Appetizer Board Signature Selection- imported hard to find cured meats and cheeses paired with mkhali/grilled/pickled vegetables/liverwurst spread & fresh breads, Norwegian salmon- potato pancake with cream & dill sauce, Schnitzel-chicken- (10oz) Served with potato & cucumber salad. For dessert we enjoyed the Apple Strudel with lingonberries & vanilla ice cream.
27 Morton is open for brunch/dinner and takeout. Visit 27morton.com 212.929.4339 27 1/2 Morton Street, New York, NY 10014
Pylos Restaurant – Rustic Greek Home Cooking from all regions of Greece located in the trendy part of the East Village. Pylos prepares upscale out of the ordinary Greek food with a vast fresh seafood menu in a space designed by Sybille de Margerie known for being the interior decorator of the Mandarin Oriental and other well-known spaces. Come here to delight your senses and enjoy a whole new greek food experience.
Our faves were the HORIATIKI- Classic greek salad with super fresh & perfectly ripe tomatoes/ HTENIA ME FASOLIA KAI ROKA- Grilled scallops lightly cooked with beans, arugula and dripped extra virgin greek olive & lemon juice/ Branzino – classic grilled whole fresh fish de-boned perfectly & dressed with extra-virgin olive oil, fresh lemon juice. For dessert we had the light, flaky & finely sugared CHRISTOS' TOWERING GALAKTOBOUREKAKIA paired with sweet wine.
Pylos Restaurant Has a large selection of wines and is open for brunch/ lunch/ dinner/ takeout and Events along with a nice dessert/sweet wine menu. Visit Pylos Restaurant 212 473.0220 128 East 7th Street, NYC, New York 10009
Visit Gnocco authentic Northern Italian restaurant located in the cozy East Village for rustic homemade pasta, specialty pizzas, desserts and more using imported ingredients & olive oil to enjoy your fresh authentic Italian cuisine under the stars in their outdoor covered garden.
Our faves were the Tagliolini Al Tartufo Bianco homemade pasta with white truffles & fresh parmesan cheese. Scottadito D'Angelo- pan-seared lamb loin chops/spicy pecorino/aromatic herbs with artichokes & roast potatoes. Bufalina Pizza- fresh buffalo mozzarella/basil & cherry tomatoes. For dessert we were delighted with the Tiramisù- mascarpone cream/espresso coffee and the fresh homemade chocolate/vanilla ice cream.
Gnocco has a full cocktail & beer menu available with an extensive wine list and pairing suggestions available. Open for dinner/weekend brunch/lunch/catering & takeout with Private Events available to be held at the restaurant for breakfast, lunch, brunch & dinner, 7 days a week for parties of 10 or more. Visit gnocco.com 212.677.1913 337 E 10th St, New York, NY 10009