St. Lucia Nature & Luxury Caribbean Vacation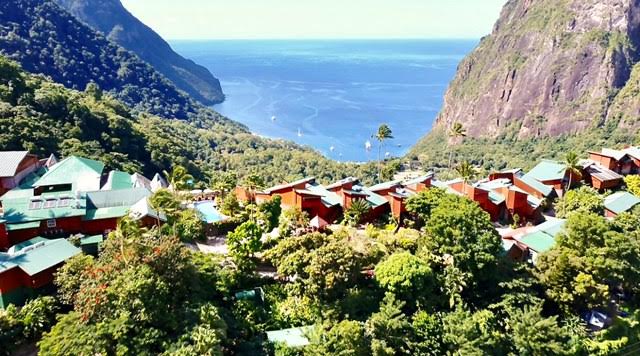 St. Lucia Nature & Luxury Caribbean Vacation @Eastwindshotel @Ladera_Resort @Windjammerstl
St. Lucia is one of the last Islands in the Caribbean unspoiled by tourists located in the eastern Caribbean Sea on the boundary with the Atlantic Ocean closest distance to Martinique and Barbados.  I was fortunate enough to stay in 2 different locations in St. Lucia – The Eastwinds Inn located in the northern tip of St. Lucia near the shoreline; considered a beach vacation and the Ladera Resort located in the southwestern coast dominated by high peaks formed by volcanic rock and rain forests with cooler weather at night; considered a nature vacation.
Eastwinds Inn located in Gros Islet is a luxury boutique beachfront property with 30 cottages on 12 acres rich with bird life, gardens and palm shaded pristine sands. Walk through the fairytale garden path to the outside swimming pool, yoga pavilion and spa that are surrounded by lush foliage. The open air restaurant is set on the beach with lounges, hammocks, rocking chairs and patio tables placed along the winding shore line.  
We stayed in a deluxe cottage surrounded by secluded grounds to relax and make your own drink at the pool bar, order poolside food & drinks from the restaurant, take a tranquil yoga class, get a specialty spa treatment, grab a book from the local library, experience fine dining and do some non-motorized watersport offered on this property.  When feeling adventurous there are activities & excursions available to book from this property as well. You will leave Eastwinds Inn feeling healthy & regenerated from the fresh food and rich plant air with the added bonus of feeling like your were on your own secluded beachfront property. For more Information and booking visit eastwinds.com
Ladera Resort, located in Jalousie is a luxury nature harmony resort set on a coffee plantation with 37 eco-friendly three-walled villas and suites that come with heated or cold plunge pools high up in between the Piton mountains that rise sharply from sea level making for the most extraordinary panoramic views and nature experience.  
We stayed in the Grand Paradise Ridge Villa most popular with bridal and honeymoon couples. The Villa includes hotel transfers and plunge pool that lets you set the water temperature anyway you want (cooler for day & warmer for night). The experience was complete with a private butler to serve meals in room and private transfers to the sauna, pool, restaurant and spa. A complimentary shuttle awaits for Sugar Beach destination set in between the mountains where Ladera guests have access to the beach facilities: lounge chairs, umbrellas food and drinks. For a zen like mind, body and soul experience with nature visit ladera.com for information and booking.
Dasheene  is an open air restaurant on Ladera's property with sweeping views of the Pitons and nightly Live caribbean music. The food is prepared by Executive Chef Nigel Mitchel with an updated take on traditional St Lucian dishes sourced from local fresh ingredients from neighboring plantations. Dasheen also supplies the food/drink pool service for Ladera guests; open from 9am to 9pm.

Windjammer Landing A villa beach resort walking distance from Eastwinds Inn that's spread out on 70 acres of hillside and beachfront property for 175 guest rooms, suites and villas with private pools. The property is full service with 5 dining choices, kids club, tennis courts, gym, 5 pools and all inclusive packages available. The Rejuvenating Spa at Windjammer Landing is full service with specialty body wraps, body scrubs, facials, massages, nails, bronzing, waxing, tinting, hair services and more. Beauty services available for outside guests and perfect for bridal and wedding parties. For information and booking visit WindjammerLanding.com