OCRFA Super Saturday 20th Annual Shopping Hamptons Event  #OCRFASuperSaturday #HamptonsHappening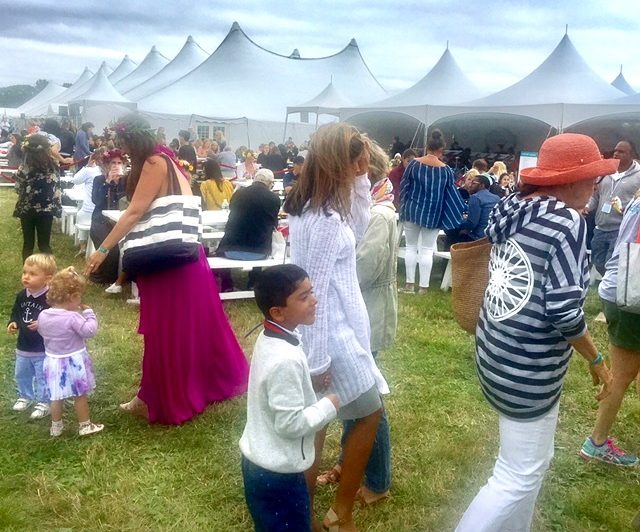 This year's 20th Anniversary Super Saturday Shopping Event to support (OCRFA) Ovarian Cancer Research Fund Alliance  took place on July 29th at Nova's Project in Water Mill, NY. This Year's Event was just as spectacular with many hours of  shopping extravaganza presented by QVC that featured luxury name brands in high fashion, accessories, beauty, children's apparel and house goods for 50% of retail and even deeper discounts making for amazing steals to be had.
Over 2000 people attended; supporters and  guests included designers, celebrities, editors,fashion lovers and their family enjoying the day. Ticket included full buffet lunch, full bar and dessert by New York's best, Saint Ambroeus. Luxury experience tents were set up for flower crowns and jewelry, manicures by Kendra Scott and hairstyling by CONAIR. There was plenty to do for the kiddies with rides, snacks, miniature golf and more while parents shopped.
Brands that participated included: Urban Zen, Karl Lagerfeld, Donna Karen, alice+olivia, Dooney & Bourke, Bon Point, Dyson, Vilebrquin, Calypso, Milly, Shoshanna, Melissa Shoes and lots more. Kelly Ripa, Rachel Zoe, Donna Karen and Molly Sims came together to host this year. celebrities, socialites and politicians had attended to support. The best part is this year's 20th Anniversary event made $3 million dollars for OCRFA. 
OCRFA was created in 2016 when they combined forces with Ovarian Cancer National Alliance into a full-spectrum organization for research funding, advocacy and patient support. OCRFA grew out of Ann Schreiber's own personal experience with ovarian cancer. Liz Tilberis then editor-in-chief of Harper's Bazaar formed a team twenty years ago started in her back yard later stepping up to serve as OCRFA's first president, propelling the organization to a national platform.  OCRFA is the largest non-government funder of ovarian cancer for innovative and promising research and continues to fight for NY policies on Capitol Hill.
QVC and OCFRA have joined forces for the cause benefitting OCFRA. Audra Moran was quoted as having said that each year the proceeds generated from QVC's Super Saturday not only benefit women currently undergoing treatment for this horrible disease but also brings us one step closer to eradicating it once and for all. QVC Super Saturday products will continue to be available through their apps or by calling 800-345-1515; you can also visit QVC Super Saturday

Here

  
Don't miss out on this event for quality fundraising on beautiful grounds with super discounted designer shopping, luxury raffles and fun for the whole family in the sought after Hamptons, NY.
For Information on  next year's Annual OCFA Super Saturday event please see information 

Here

  
                                                                                                                                                                                                                                                                                                                                                                                                                                                                 Diane Kronstad/Anca Visan