Best Of The Best Hamptons Happening SWCRF 13th Annual Cancer Benefit & RUN10 FEED10 #SWCRF #HamptonsHappening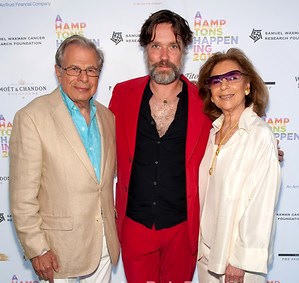 Today's Hamptons is a different animal with lavish Mecca multi event happenings thrown by well known personalities in leased multi-million dollar properties that bring socialites, celebrities and the new household named publishers, bloggers, vloggers visiting for the day along with weekend and summer property owners enjoying what the Hampton's has to offer.  Please see my roundup on best of  the best Hampton Happenings below.
Waxman Cancer Benefit 13th Annual A Hamptons Happening Honors Diverse Industry Leaders to Benefit

 

Samuel Waxman Cancer Research Foundation Feast Held on Maria  and Kenneth Fishel Bridgehampton Property honoring the achievements and charitable contributions of high-profile professionals from a wide range of industries: Glenn Myles, Chairman and CEO of First Wall Street Capital.
There were over 50 different tasting stands from The delicious tasting stations showcase of cuisine and desserts from popular restaurants, chefs and spirits brands including The Savory,The 21 Club; Backyard Brine Pickle Co, Calissa, Chef Dominic Rice, Centro Trattoria and Bar, Eataly, The Golden Pear, Keith Davis, Chef Gabriel Kreuther, Manna, Chef Marco Barrila, Neuman's Kitchen, Paul Neuman, Saaz Indian Restaurant, Sameer Mohan, Seafood Shop, Colin Mather, The Union League Club, Russell Rosenberg, The Sweet, Candied Anchor, Jillian Rennar, Clarkson Avenue Crumb Cakes, Susan Walsh, Erica's Rugelach, Erica Kalick, Lisa Vivo Custom Cakes, Lisa Vivo, Magnolia Bakery, Bobbie Lloyd, Southfork Bakery & Beverages: Doña Sarita Mezcal, Haas Brothers, Keith's Nervous Breakdown Margarita Mix, Moët, Montauk Brewing Co., Montauk Hard Label Whiskey, Palm Bay International and Tito's Handmade Vodka.   
Attendees were Bobbie Lloyd, Chief Baking Officer of Magnolia Bakery; Shep Gordon, Talent Manager, Hollywood Film Agent, Producer and Author Gabriel Kreuther, Owner and Executive Chef of Gabriel Kreuther Restaurant a Michelin Star recipient, Relais & Chateaux restaurant, Margaret Hayes, President and CEO of Fashion Group International. Lori Stokes, Sharon Wilkes Kinberg and Robert Kinberg, Sybil and David Yurman, Elin and Michael Nierenberg, Maria and Kenneth Fishel, Sandy and Marc Taub, Pamela Morgan, Norena Barbella, Laurie Schaffran, James Frankel, Lewis A. Rubin, Gary Jacob, Bettina and Spencer Waxman, Julie and Scott Waxman, Ann Liguori, Scott Vallery, Bobbie Lloyd, Mark Petracca, Shep Gordon, Margaret Hayes, Gabriel Kreuther William T. Sullivan, Cesar Ricci, Karen Amster-Young, Chris Arlotta, Jake Croman, Erica Linden-Fineberg, Jacob Frisch, Jessica Mackin-Cipro, Jennifer Saraf Myles, Glenn Myles, Sarah and Chris Wragge, Elle Winter and Jake Taub. 
Rufus Wainwright  jumped up on the stage during the live audience joining Mr. Hunt to talk about how he is donating his time to the winning bid to perform on the same Steinway piano that's on the stage for 1 month in the home of the highest bidder. In a matter of 5 minutes there was a winning bid of $20.000 making for the highest bid of the night. Guests also bid on a wide range of covetable items and Lifestyle experiences in the A Hamptons Happening silent auction,
There were circus performances ,DJ and a solo performance from Rufus Wainwright making for a memorable night. Samual Waxman's Annual Cancer Benefit continues to give guests a lavishly wonderful experience with no expense spared. Now that's a way to throw a Benefit!
For more information on SWCRF, visit www.waxmancancer.org
Women's Health Magazine and the the FEED Foundation's 6th Annual  Party Under The Stars Collaboration was held at the Bridgehampton Tennis & Surf Club to fight domextic hunger thru the philanthropic Run 10 Feed 10. The Inside event held the silent auction which benefited the FEED Foundation complete with catered spirits/wine d'oeuvres and music from  DJ Alexandra Richard.  The beach front part had a Live Reggae Band and a giant bonfire complete with welcoming wine. S'mores and sparkles.
There were tons of celebrities and  Guests at the beachside benefit including  Taraji P. Henson, Kelly Rutherford, Taryn Manning, Zosia Mamet, Kat De Luna, Ramy Brook, Eric West, Rebecca Minkoff, Monique Coleman, Jill Zarin, Josh Pais, Adriana De Moura, DJ Alex Merrell, Kelly Killoren Bensimon, Chef Roblé, Ginger Zee, Tashiana Washington, Monika Chiang, Simone De La Rue, Megan Henderson, and Frances Rivera and more.
For more information on RUN10 FEED10, visit TheFeedFoundation.org