Miele Duo TwinDos W1 Washer & T1 Tumble Dryer Laundry Innovation Smart Appliances @MieleUSA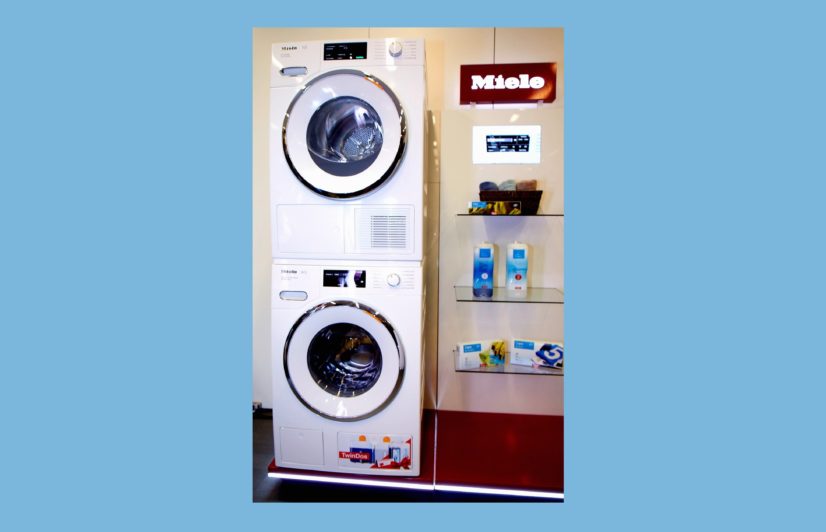 I had recently attended the Miele X Good Housekeeping Fashion, Fun + a New Spin on Laundry Event in NYC with other fashion/home product Editor & Influencers for the newly launched W1 Washing Machine and T1 Tumble dryer. Cocktails and hors d'oeuvres were served while learning about the latest style trends and how to keep them looking their best. After the presentation we were given demonstrations and reviewed the M1 & T1 Washer dryer with owner Kevin Miele and his Team. I also learned that the Meile Duo TwinDos W1 Washer & T1 Dryer were awarded The Good Housekeeping Seal Of Approval. 
Overview –
MIELE a family owned German Manufacturer of high end domestic appliances and commercial equipment has been in business since 1866 and has a reputation for making sturdy, effective, efficient machines. Miele distributes their appliances all over the world and is considered the European standard. Miele recently launched the Duo TwinDos W1 Washer & T1 Dryer that was awarded the Good Housekeeping Seal of Approval.
The Good Housekeeping Seal promises that products that have been rigorously assessed by the GH Lab stand behind the exclusive refund or replacement limited liability warrant. To receive the seal means rigorous lab testing was done on the Miele W1 & T1 with excellent  results – System shows strong performance, cycles finished quickly, impressively removed set in grass & mustard stains, duo handles large loads without compromised performance and TwinDos technology measures/adds miele's detergent specifically used for optimization and no residue.
Product Review –
Miele Duo 24 inch W1 Washer & T1 Tumble Dryer is considered one of the best smart laundry appliances on the market that has launched until now:
Built more efficient and lasts up to 20 years. Saves time, space and energy.

Brighter whiter colors and removes difficult stains, virtually wrinkle/crease free, 

saves fabrics from shrinkage. No soap residue buildup and gentle on delicate materials to help fabrics last longer. C

omes with an 

AutoSense App 

that 

senses moisture and adjusts each program's length and intensity. Download app 

at google or iPhone Store. Perfect for apartments and small spaces.
Here's Why – 
The W1 Washing Machine- Numerous programs for specific garment/fabrics. Honeycomb drum is built to spin faster for a better wash in less time saving the life of the fabric and energy. TwinDos uses and stores 3 months Miele detergent

 specifically formulated to work for optimization with computer perfect measurement to the programed load. 
The T1 Tumble Dryer – Numerous  programs including steam, fluff & anti-crease. Sensor dryer panels for temperature are monitored to turn off before the drying cycle is  finished for no over drying problems. Uses and stores 1 month worth of Miele FragranceDo pods. Uses a heat pump so there is no need for a hookup to use stored in closest and practically anywhere in your home/apt and saves furniture from condensation.
                        
 Design & Functionality –
CoDry sensor panels uses the Miele filter system and maintenance-free heat exchanger to use less energy and keep drying times short for no shrinkage Quick Intense wash in 1 hour

CapDosing Miele brand portioned capsules are a convenient solution for processing laundry requiring special applications.  

Enameled front: scratch-proof and corrosion-proof coating claimed to be resistant to acids last longer detergent functionality 

honeycomb drum water circulation 

Multi language dial change the language on the digital interface to suit you

Multi combination duo computer program setting for wrinkle/crease free and prolongs the life of the fabric operates 

operates on standard 120v power

WiFiConn@ct app for wireless capability via Google Play or the App Store 

ENERGY STAR Qualified
The W1 washer line comes in three different units and the T1 dryer line comes in 2 models.
Meet 

Miele's new smart W1 washing machine & T1 tumble dryer with a genius 

computer brain, smart design & app along with the 

the Good Housekeeping Seal of approval. Because looking your best is not just for 
Fashionistas.
Sponsored