J.F. Lazartigue Les Soins D'Exception Haute Couture Launch Event NYC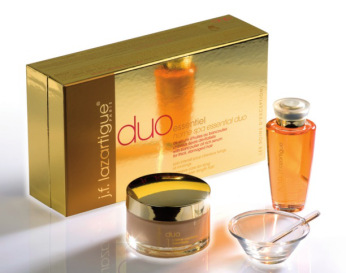 Beauty Editors were treated to a master class given at the J.F. Lazartigue Launch Event in NYC given by the charming and knowledgeable hair care specialist/product developer and national sales Director Mary Pergoda who works hand in hand with Mr. Jean-Francois Lazartigue one of the most renowned hair care specialists in France who developed his brand J.F. Lazartigue a small luxury hair product in 1976 later bringing  his growing line to the USA in 1987 with tremendous celebrity following. Mr. Lazartigue's philosophy is to select the best available ingredients and use them in high concentrations using non-damaging color process 100% ammonia & peroxide free and a non-damaging straightening process based on 70% plant extracts for all hair types and colors for healthy beautiful hair.
J. F. Lazartique newest launch collection  Les Soins d'Exception – the ultimate luxury Haute Couture hair care to repair and restore seriously over processed and damaged hair includes:   Les Soins d'Exception shampoo & conditioner that contains Tea Oil for fine/delicate hair and shampoo & conditioner that is derived from the Bancolier Nut found in Polynesia designed to protect and repair for thick, coarse and damaged dull hair.
J.F. Lazrtique is the expert in hair care; for more hair care information and hair care collections please visit  www.jflazartigue.com
https://fashionsdigest.com/j-f-lazartigue-les-soins-dexception-haute-couture-launch-event-nyc-jflazartigueusa-nyc-mary-pergoda/