Ebay New Service – Valet Closet Cleanse a new experience with Garance Dore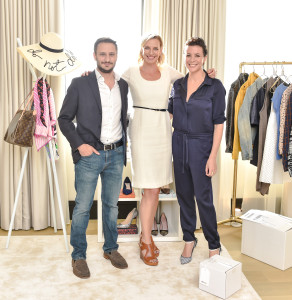 Last month I had attended the Ebay New Service – Valet Closet Cleanse a new experience with Garance Doré Event at the NY Edition Hotel to learn about a new service that gives sellers a simple way to earn extra money on Ebay by selling your high end apparel, accessories and electronics.  What I found out is Ebay has made this service extremely simple to sell; all you have to do is:
1. Visit ebay.com/valet and request a free, prepaid shipping label.
2. Place the items in any box.
3. Using the free prepaid shipping label, send the box to a valet.
Once items have been sent to a valet, customers will receive regular updates by email, during the next 3-4 weeks, when their items are received, listed and sold. Customers then receive up to 80 percent of what their items sell for, deposited into their PayPal account. Any unsold items are returned to the customer for free.
Valets are carefully screened for inclusion in the program and must demonstrate the ability to consistently deliver the highest standards of buyer experience to eBay shoppers.  The bottom line is almost everyone has at least 1 designer piece that is not used and wastes space in their closet and has a tech gadget that is outdated or complicated ect. with the new Ebay Valet Service it does not cost you anything to ship your items to Ebay for sale and  if they don't sell you don't even pay for items to be shipped back to you with my reasoning being; why not find out if you can make some money on something you'll never use that's easy and free?
for more information or to start listing visit ebay.com/valet
 https://fashionsdigest.com/?p=5776