BEAUTYPRESS SPOTLIGHT DAY PRESS EVENT SEPTEMBER 2014 MIDTOWN LOFT NY #Spotlightday #beautypress
Beautypress Spotlight Day Press Event on September 24th 2014 invited around 120 Beauty Editors from  long & short lead media, retailers and TV Producers to get 1st hand knowledge, collaborate and sample the leading 8 beauty brand exhibitors at this event from the USA and around the world getting the word out on these brands to beauty consumers by expansion of  presence from reviews and releases.         
Here are the top brands and information to share with my viewers:                                                    
Kiss Products –  The World's largest manufacturer and distributor of professional quality nail products gave me a great set of nails that I picked from a large variety of nail selections and was  fast/easy to apply.  Save your money and time by applying them yourself and Kiss Products are sold everywhere.  Want  dressy nails for a night out or fun holiday nail themes – Kiss has them.
lavera –  German skin care and makeup company that has 300 natural and organic products.  Lavera has a sister company named  True Natural that includes innovative, natural and pure skin care ingredients for demanding North American shoppers.  True natural tanners I tested were natural looking without an orange effect and nice smelling. True natural was awarded the Green star beauty award in 2013 and 2014 with ELLE magazine.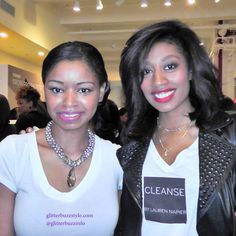 Cleanse –  by Lauren Napier a luxury cleansing wipe by Lauren a makeup artist who came  up with a product for an effective and fast way to remove long wearing makeup and impurities from the skins surface by using an ample plush cotton blend cleansing cloth that comes in 12 individually packaged sachets.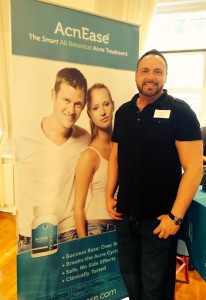 AcnEase –  An Acne Skin Regimen System founded by Dr. Agnes Olszewski made up of all natural botanical ingredients without harsh chemicals, Gluten, dairy, GMO's and sugar for no side effects.  AcnEase is customized to the treatment needed for all skin types and acne severity with a 96% user success rate.
Beautypress Sptlight Day was both fun and  informative under 1 roof.